Assign categories and document types 
The following training tutorials guides how to assign account categories and document types for PR. You can assign categories and document types for PR by using one of the following navigation method.
SAP IMG Path: – Project system >> material >> procurement >> Account Assignment Categories and Document Types for Purchase
Requisitions
Transaction code: – OPS8
Step 1: – Enter transaction code "OPS8″in SAP command field and press enter key.

Step 2: – On material flow in the network overview screen, click on new entries to assign categories and document types

Step 3: – On new entries screen, update the following fields.
Procurement: – Update the three digits alpha numeric id that identifies the procurement indicator and update the descriptive text.
Priorities: – Priorities controls various stock types, for example you can set priority project to 1,  priority plant to 2 and priority sales to 3.
Control data: – Control data control the purchase requisition network, third party material is delivered to customers and preliminary purchase requisitions.
Default item category: – Update the default item category for the item category MRP.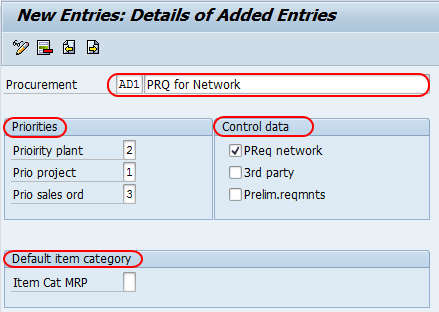 Click on save button to save the configured data.