Maintain Network types
The following SAP training tutorials guides how to create network types in SAP step by step. In our previous training tutorials we have learnt how to maintain project profile and network profile.
You can maintain network types by using one of the following navigation method.
SAP IMG Path: – SPRO ->> IMG ->> Project system ->> Structure ->> Operative structure ->> Network ->> Settings for network ->> Maintain network type
Transaction code: – OPSC
Step 1: – Enter transaction code "OPSC" in the SAP command field and enter.

Step 2: –  On maintain network types overview screen, click on new entries to create new network types as per blue print.

Step 3: – On new entries network types screen, update the following fields.
Order type: – Enter unique id that identifies the order type in SAP and update the descriptive text of order type.
Control indicator: – Select the classification if it is required in planning and select planning option to copy the data to controlling.
Residence Time 1: – Update the residence time one for time interval between deletion flag and deletion indicator.
Residence Time 2: – Update the residence time two for time interval between deletion flag and deletion indicator.
Functional area: – Functional area is used for creation P& L account in FI using cost of sales accounting.
Settlement profile: – Update the settlement profile from the drop down list.
Status management: – Update the status profile ID that you have created earlier, it becomes default for all activities.
Release immediately: – If you select this field,all activities will release after they created.
Number range : – It determines the number range for network headers. Check the following how to create number range interval for orders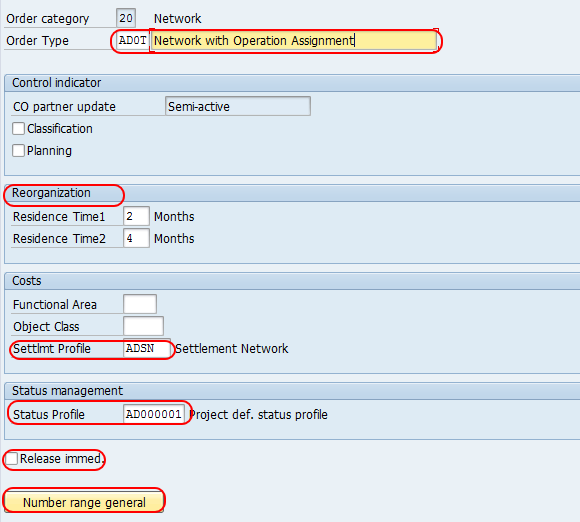 After updating all the mandatory fields, click on save button t0 save the configured network types data.