Create User Roles in SAP
The following SAP training tutorials guides you how to maintain user roles in SAP step by step. In our previous SAP security training tutorials we have learnt about how to create user account in SAP and user mass maintenance.
You can create user role in SAP security by using one of the following navigation method.
SAP Path: – SAP Menu –> Tools –> Administration –> User Maintenance –> Role administration –> Roles.
Transaction code: – PFCG
Step 1: – Enter transaction code "PFCG" in the SAP command field and enter.

Step 2: – On "Role maintenance" screen update the following details.
Enter new role id that you want to create (In this configuration we are going to create Z_ROLE_USER with certain transaction codes authorizations).
Click on create role button.

Step 3: –  On create role screen, update the following details.
Description: – Enter the role descriptive text, here we are updated as "Role for end user procurement team"
Long text: –  Update the long text of the role.
After updating the detail, click on save button.
Step 4: – Now we have to assign transaction code to the role. Go to menu tab to assign transactions and click on the transactions tab as shown below screen shot.

Now add all the Transaction codes that you want to assign to role and then click on Assign transactions.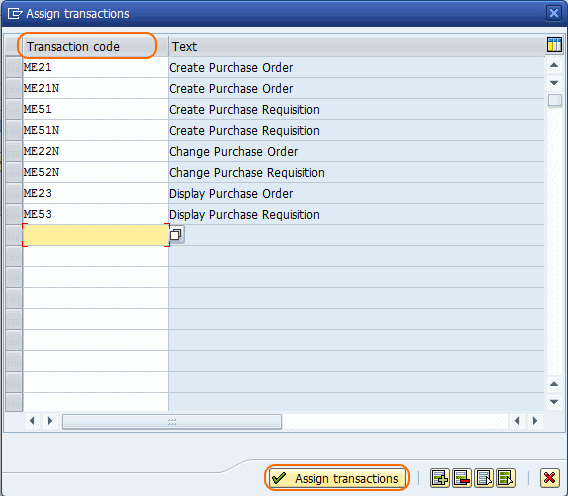 Step 5: – Now we have generate authorization profile, follow the following steps.
Click on authorizations tab,
Next click on "change authorization data"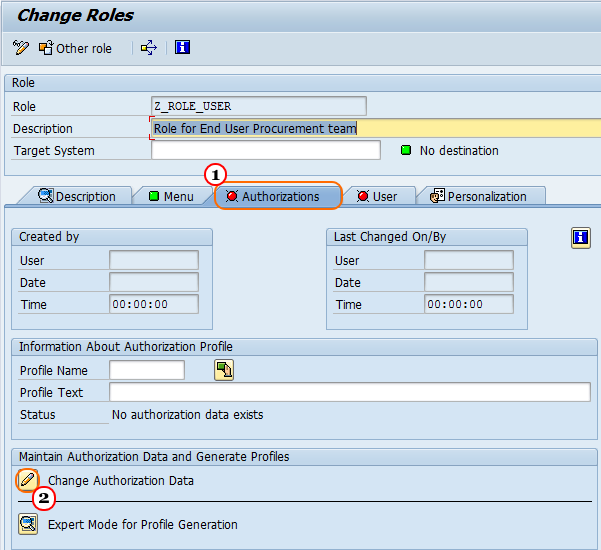 Click on save yes option to save the role.
Now click on missing level and click on execute option as shown below image.
Click on save button to assign profile name for generated authorization profile

Step 6: – Now assign particular users to a role by click on user tab and update user id as shown below.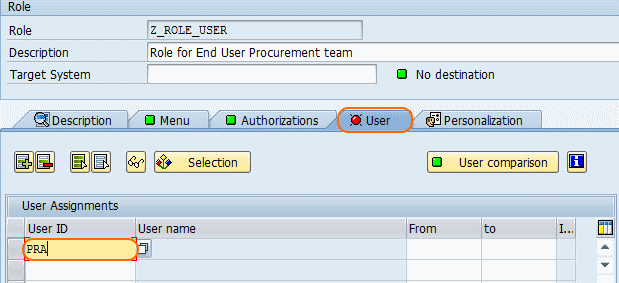 Click on save button and save the details, successfully we created user roles and assigned in SAP.