Define Cost Center Categories
The following training tutorials guides you how to define new cost center categories in SAP step by step.
Path: – SPRO > IMG > Controlling > Cost center accounting > Master data > Cost centers > Define cost centers categories.
Transaction code: – OKA2
Enter transaction code SPRO in the SAP command field and enter.

Select "SAP Reference IMG"

Follow the IMG path and double click on define cost center categories.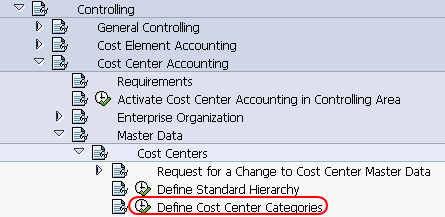 On the change view, cost center categories, click on new entries.

Update the following entries.

Click on save button to save the entries.