Daily work schedules
The following training tutorials guides you how to define daily work schedules in SAP step by step. You can define daily work schedules by using the following navigation method.
Transaction code: – SPRO
SAP IMG Path: – SPRO >> IMG (F5) >> Time management >> Work Schedules >> Daily work schedules >> Define daily work schedules
You can define work schedules by coping existing predefined entries or entering new data as per your organization requirements. Click on "New entries" to define new work schedules as per your business requirements.

On the new entries screen, update the following fields
DWS Grouping: –  Update the daily work schedule group id.
Daily work schedule: – Update the NORM and normal shift in text field
Periods: – Update the starting period that is valid up to
Planned working hours: –Update planned working hours, every company has there own policy regarding to working hours.
Working time: – Update the working time of normal shift, most of the normal shift starts from 8 AM and ends at 6 PM.
Breaks: – Update working break schedule as NORM
Tolerance Time: –update the tolerance time.Every organization follows there own policy regarding working shifts.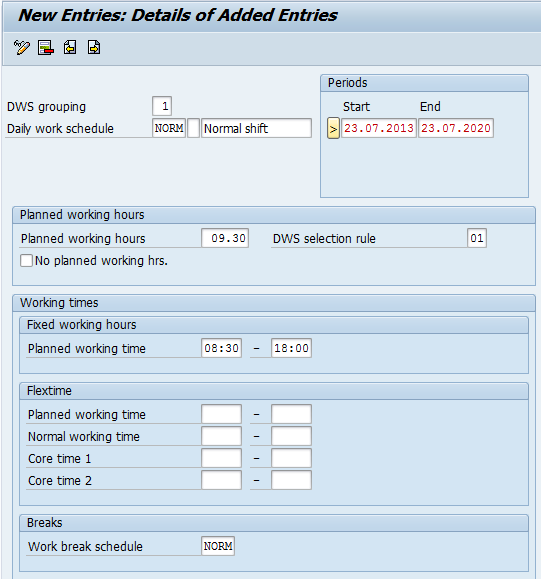 After updating all the mandatory fields, click on save button to save the configured entries.
Read more for SAP HCM module training tutorials that explains step by step.