Sub network parameters
The following training tutorials guides how to define sub network parameters in SAP step by step. In our previous training tutorials we have learnt how to maintain network type and network type parameters.
You can create sub network parameters by using one of the following navigation method.
IMG path: – SPRO ->> IMG (F5) ->> Project system ->> Structures ->> Operative structures ->> Network ->> Define parameters for subnetworks.
Transaction code: – OPTP
Step 1: – Enter transaction code "OPTP" in SAP command field and press enter.

Step 2: – On control parameters sub networks overview screen, click on new entries.

Step 3: – On new entries screen, update the following fields.
Network type subnetwork: –Update the network type that determines subnetwork in project system
Network type replace act: – Update the network type that subnetwork will be replaced after order is assigned to project in PS
Control key: – Update the control key, how the subnetwork controls in PS.
Copy dates: – Update the key that dates to be copied from network to the subnetwork. Possible entries are (1- earliest dates, 2- latest dates, 3- earliest start and latest finish)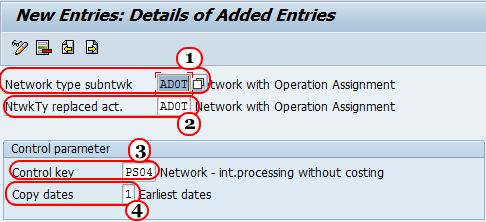 After maintaining sub network parameters details, click on save button and save the configured data.