Overview of ERP SAP Software
What is SAP ERP Software– ERP SAP software is the best, popular and most leading enterprise resource planning (ERP) software for the enterprises. ERP SAP software provides tracking, managing and reporting all the business process in real time.
The following ERP SAP training guides everything about SAP software and why company uses SAP software, it importance for business process, SAP versions and its architecture.
SAP AG is one of the world largest software company in the world. It was found by five former IBM employees in 1972. SAP global head quarters are located in Walldorf, Germany. Present SAP software company is listed on several stock exchange.
SAP (System Applications and products in data processing) provides the complete business process solutions by integrating all the business modules such as sales, purchase and production. SAP takes the information from one business process and integrates to another business process, so SAP software enables speeding up all your business process.
Versions of ERP SAP Software
SAP R/1– R/1 is the first version of SAP and was launched in the year 1972.
     R/1 stands for "Real time" data processing for one-tier architecture.
SAP R/2– In the year 1981, SAP software has come with a re-designed product for better market solutions. The version is called R/2 mainframe product.
     R/2 stands for "Real time" data processing for two-tier architecture.
SAP R/3– In 1992, SAP software was updated to version called SAP R/3. It is a client server based version. It supports on different databases like IBM DB2, oracle SQL, etc.
      R/3 stands for "Real time" data processing for thee-tier client server architecture.
| | |
| --- | --- |
| Year | SAP Version Release |
| 1972 | SAP R/1 |
| 1981 | SAP R/2 |
| 1992 | SAP R/3 |
ERP SAP Client/Server Architecture
SAP R/3 system is divided in to three layers such as Presentation layer, Application layer and Database layer..
Presentation layer– It is top most layer and allows users to control data so that they can input it for query. The input data transfer to database layer through the application layer. The the results are transferred back to application layer. The presentation layer can be SAP GUI (graphical User Interface), web browser, SAP BEx, etc. The information is passed from database layer to application layer and displays on presentation layer.
Application Layer– This layer is also known as business layer. It process all the business logic of application such as calculations, logical decision, data processing, etc. Application layer can be installed on one machine and can be shared across the systems
Database Layer– SAP database layer receives all the data from the application layer and performs the operations. All the data is stores in the database layer.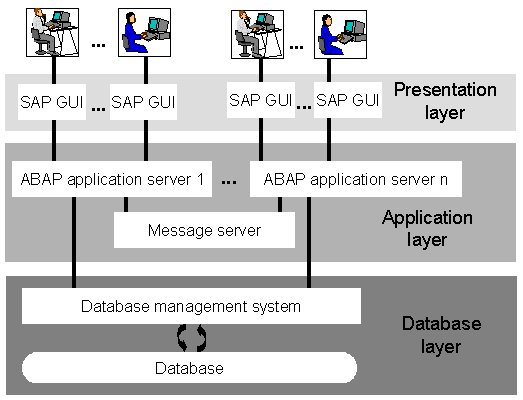 Important modules of ERP SAP Software
SAP R/3 software has come with various modules that are grouped into various business areas. The important modules of SAP software are as follows.
Why companies use ERP SAP software
After installation of SAP R/3 in an organization, it enable the improvements in project management, you can integrate suppliers and subcontractors in to SAP system, you can optimize sales orders capabilities, minimize your costs, etc.
All the SAP modules such as MM, FICO, SD, HR, CRM, PP, and so many can be integrate to SAP software. It provides the best solution for the business process.
You can customize SAP as per your business requirements.
No chances for duplication of data. The systems throws an message if the data already exists in the system.
You can integrate SAP with e-commerce.
SAP has come with multi lingual, multi currency and with real time  processing.
It secure the information, no data is share to the unauthorized users.
Industry Solutions of ERP SAP
Now you come to know what is ERP SAP software and why companies uses SAP.