Set Control Parameters for Actual Data
The following training tutorials guides "how to Set Control Parameters for Actual Data" in SAP step by step.
Path: – SPRO > IMG > Controlling > Profit center accounting > Basic settings > control area settings > activate direct postings > Set Control Parameter for Actual Data.
Transaction code: – 1KEF
Enter transaction code "1KEF" in the SAP command field and enter.

Enter your controlling area key.

Click on new entries button.

On the new entries screen, update the following details.
From year: – Enter from year 2014.
Check line items and online transfer fields.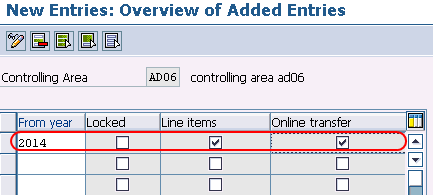 Click on save button to save configured entries.