Post Vendor Down payment
Access the transaction by using one of the following navigation methods
SAP Path: SAP Menu –> Accounting –> Financial Accounting –> Accounts Payable –> Document Entry –> Down payment –> Post Vendor Down payment
 " Post Vendor Down payment " Transaction Code :- F-48
On post vendor down payment: header data screen, update the following fields
Document date: Date of transaction occurred

Type: Document type classifies accounting documents (e.g. KZ- Vendor Payment)
Company code: Enter company code
Posting date: Posting date would be defaulted as the system date.

Currency/rate: Enter currency key in which invoice should be posted. (e.g. INR, USD)

Period: Current posting period.

Reference: Enter the reference document number (e.g. DP request#, vendor request# proforma invoice#).

Document header text: Update details of payment.
Vendor details
Account: Enter the vendor account code to whom the payment is to be done.

Special G/L ind: Update special g/l transaction indicator (e.g. A, B, D etc.)
Bank Details
Account: Enter Bank G/L account.

Amount: Enter amount to be paid in document currency.

Business Area: Update business area.

Bank charges: Enter bank charges if applicable.

Value date: Update value date i.e today's date.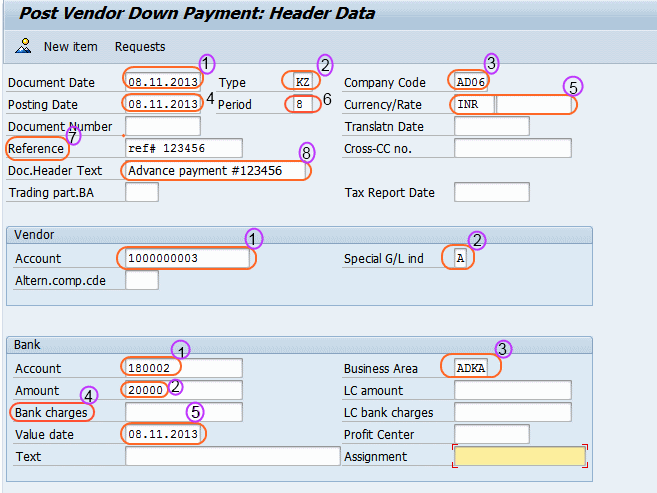 Press enter continue to next screen
Update mandatory fields such as amount, text, calculate tax, business area.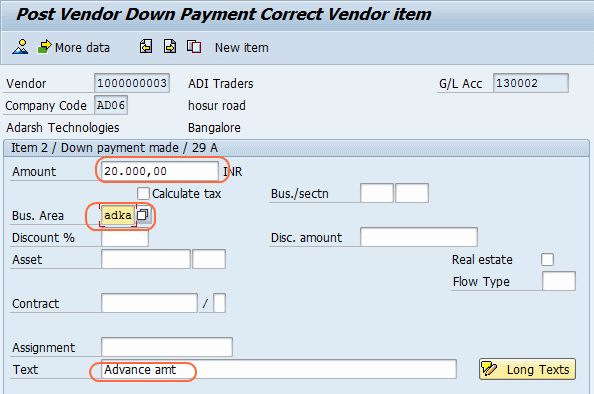 Before posting the document verify the account transaction. Go to document and click on stimulate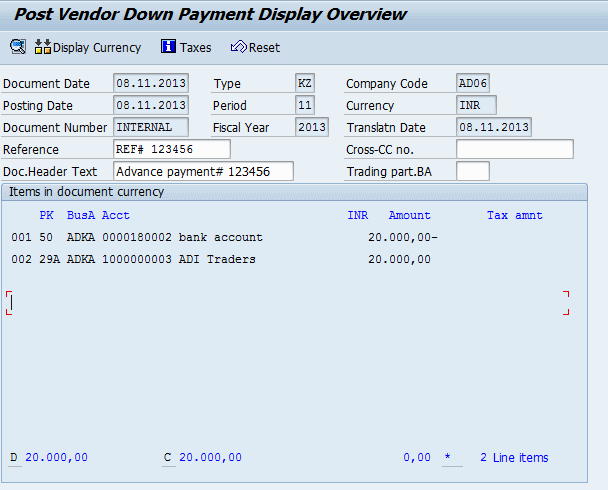 Click on save icon to post the vendor down payment document. Message will be displayed as "Document xxxxx was posted in company code xxxx.