What is Chart of Accounts
What is Char of Accounts- Chart of Accounts is a list of General Ledger master record used by the companies. Before configuring the enterprise structure in SAP, every organization must plan how the structure will look like.
Configuring a chart of accounts is one of the big hurdles to overcome in a project. Before implementing SAP, it is important to have a conversion with client and after having a clear picture of understanding with client, you can configure SAP as per business requirements.
Every G/L account is configured according to the chart of accounts. All the the general ledger accounts are arranged in order form, for e.g Current assets (1000-1500) if you are creating any current asset account, the account number is assigned from 1000 to 1500 only.
It is mandatory to define minimum one char of accounts in the SAP R/3 System.
Types of Chart of Accounts– Chart of Accounts (COA) are divided in to three types, They are
Operating Chart of Accounts
Country Chart of Accounts
Group Chart of Accounts
Operating Chart of Accounts: – The company uses operating COA to record daily transactions. It consists General Ledger Accounts that utilizes for purpose of postings in company code. The Operating chart of Accounts is used in both SAP Financial Accounts (SAP FI) and in cost accounting.
Country Chart of Accounts: – The organization uses this chart of account to meet the countries legal requirements. For e.g. tax calculation may vary from country to country, so the Country COA helps to prepare the reports as per the countries legal requirements.
Group Chart of Accounts (COA): – This chart of account is used by the corporate group and you can prepare consolidation reports for your entire group. While creating chart of accounts, you can assign group char of accounts as shown below.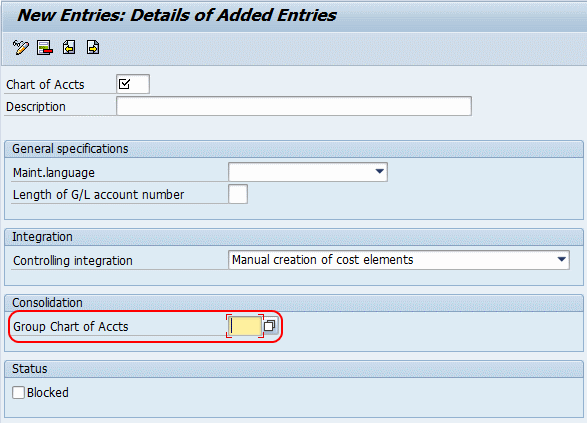 We can create chart of accounts in SAP by using transaction code "OB13".