Parameters for WBS scheduling
The following training tutorials guides you how to define parameters for WBS scheduling in SAP PS step by step. You can define parameters for wbs scheduling in SAP PS by using one of the following navigation method.
SAP IMG Path: – SPRO >> IMG (F5) >> Project system >> Dates >> Data planning in WBS >> Define parameters for wbs scheduling
Transaction code: – OPTQ
Step 1: – Enter transaction code "OPTQ" in the SAP command field and press enter.

Step 2: – On control parameters for wbs scheduling overview screen, click on new entries.

Step 3: – On new entries screen, update the following fields.
WBS scheduling profile: – Update the unique ID that identifies WBS scheduling profile in SAP and enter its description of WBS profile.
Scheduling type: – It specifies the type of scheduling that to be performed, possible entries are (backwards, backwards in time, current date, forwards, forwards in time and only capacity requirements)
Start in past: – Update the number of past days that the scheduling starts in past.
Scheduling method: – Update the scheduling method from the options, i,e WBS determines dates or Network determine rules.
Adjust basic date: – Select this option to specify the wbs dates based on network activity dates.
Automatic log: – Select this option for automatic log during logging.
Shift order: – If this option is selected, it determines not to take the dates for rescheduling.
Automatic scheduling: – Select this option for automatic scheduling after network has been saved.
Latest staging: – Select this option for latest dates of an activity.
 Reduction: – It determines the account for reduction lead time, the following are types of reduction.

Maximum reduction level: -Update the maximum reduction of lead time, for e.g. (0- do not reduce, 1- do not reduce beyond reduction level 1, 2- beyond level 2 and so on)
Reduction type: – Update the type of operation that be applied for reduction type.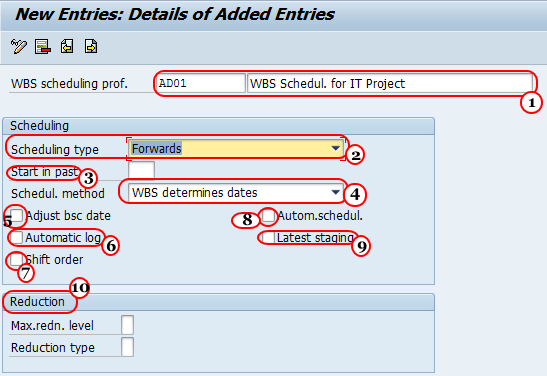 After updating all the mandatory fields, click on save button and save the configured wbs scheduling parameters data.