Functional Areas in SAP
The following Free SAP training tutorials guides how to configure functional areas in SAP step by step. In our previous online training tutorials we have learnt how to configure business areas in SAP.
What are Functional Areas: – Functional areas are organizational units of financial accounting that classifies the expenses as per the organizational functions.
Lets configure functional areas in SAP
Enter transaction code "OKBD" in the SAP command field and press enter.

On change view functional areas overview screen, click on new entries to define new functional areas as per your organizational requirements.

On new entries overview screen, update the following details.
Functional area: – Update the New key that identifies the functional area in SAP, it allows maximum four digits.
Name:- Update the name of the functional area.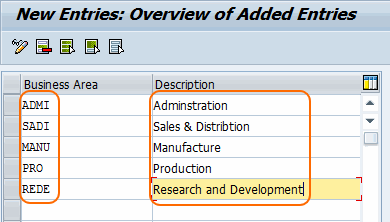 After maintaining the functional areas, click on save button and save the configured data in your customizing request.
Successfully functional areas in SAP are configured.