The following tutorial guides you "How to Create Cost Element in SAP CO" step by step with screen shots.
Primary Cost Elements :- Primary cost elements are available in the standard system through chart of accounts ADAR. The primary cost elements are based on the accounts in FI and may be allocated to multiple cost element groups. Whenever you create a new income statement account in SAP FI that is relevant for CO, you have to create a corresponding primary cost element in Controlling to make sure that postings relevant to cost accounting are recorded properly.
     Primary cost elements are mainly personnel, material costs & overheads that can be posted directly to SAP CO via FI. To manage primary cost elements, you can use the categories such as – category 1:- primary costs / cost-reducing revenues, category 3:- accrual deferral per surcharge, category 4: accrual/deferral per target=actual), category 11:- Revenues, category 12 :- Sals deduction  and category 22:- external settlement
For creation of  Primary cost element, first you have to create the G/L Account for cost elements. Here we created 270000 G/L Account.
SAP Menu Path :– SAP Menu > Accounting > Controlling > Cost Element Accounting > Master Data > CostElement > Individual Processing > KA01 Create Primary
Transaction Code :- KA01
Enter T Code KA01 in the sap command field and press enter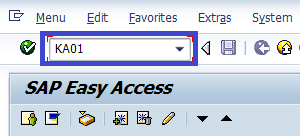 Enter Controlling Area AD06 and press enter
Enter the Cost Element Number
Valid From : 01.04.2013 to 31.12.9999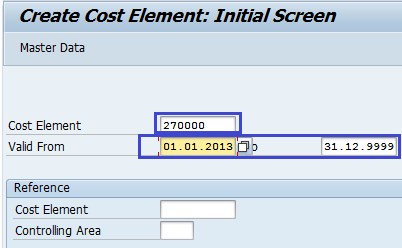 Update Cost element category as 1 (primary cost /cost reducing revenue)

 Save the configured cost elements and you will get a message "Cost elements has been created"