Create Settlement Profile
The following training tutorials guides you how to maintain settlement profile in SAP step by step. You can create settlement profile in SAP by using one of the following navigation method.
SAP IMG Path: – SPRO -> IMG -> Controlling -> Internal orders -> Actual postings -> settlement -> Maintain settlement profiles
Transaction code: – OKO7
Step 1: – Enter transaction code "OKO7" in the SAP command field and enter.

Step 2: – On settlement profile overview screen, click on new entries to create settlement profiles as per organization requirements.

Step 3: –  On new entries screen, update the following filelds.
Settlement profile: – Update the new unique ID that identifies the settlement profile in SAP and update the descriptive name of the settlement profile.
Actual costs/cost of Sales: – Select the option "To be settled in Full"
Default values: – Under default values update allocation structure and default object type fields.
Indicator: – Under indicator select percentage settlement and amount settlement
WBS element: – Select settlement optional under valid receivers
Other parameters: – Update document type, max.no.dist.rls and residence time.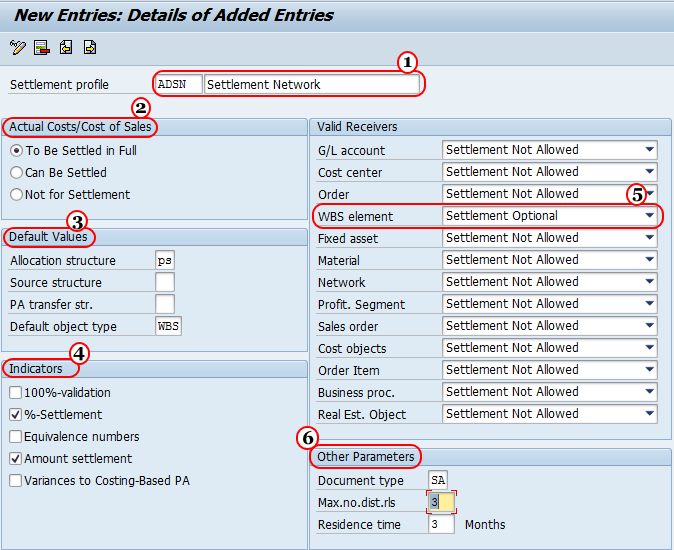 After updating all the mandatory fields, click on save button to save the configured settlement profile data.