What is SAP LSMW-
SAP LSMW stands for Legacy System Migration Workbench), it is a tool that supports to transfer the data from non SAP systems to SAP R/3. The data can be transferred to SAP system by using batch input, direct input, Intermediate Document (IDOCs) and BAPIs (Business Application Programming Interface).
In SAP system the implementation data from non non SAP system (Legacy System) to be transferred to the SAP system. It is also called as data migration and the important that used for data migration are BDC and LSMW.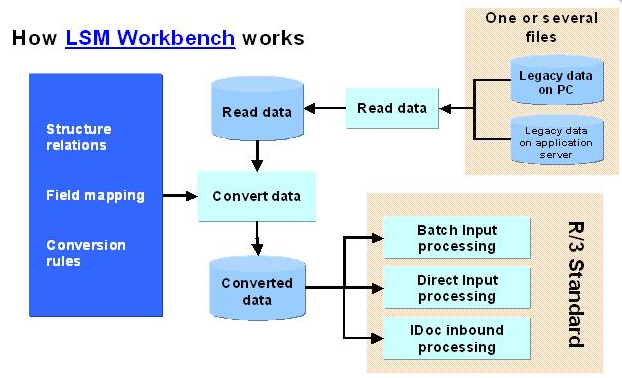 Functions of SAP LSMW Tool
The main functions of SAP LSMW tool are as follows
Import data– Data in spread sheet tables & or sequential files.
Convert data– Converts the data from source formate to target format
Import data– Imports data in to SAP system data bases.
Import Methods-
1. IDOCs- Intermediate documents method is a easy process, fast to load and low programming for standard IDOCs
2. BAPIs– BAPIs method is a easy process, fast to load the data and logical interface for users depends up on the business process.
3. Standard/Direct Input– This method is a well tested, easy to process and very fast to load.
4. Batch Input– This method is easy re-process, easy to modifiable and all the fields are available to process.
 How to Start SAP LSMW workbench Tool
You can start LSMW Workbench tool by using transaction code "LSMW"

On the Initial screen, you can create new project from EDIT option >> Create New entry.
Project: – Enter project ID name of your data transfer project, maximum 10 alpha numeric characteristics
Subproject: – Update the sub project that is used for further structure attribute
Object: – Update object ID to name the business object.
Check our ABAP training tutorials that explains how to migrate data using SAP LSMW tool.
Read more for SAP Training tutorials that explains step by step with scenarios.