SAP CRM Architecture
SAP CRM Architecture Introduction – SAP CRM server is connected to ERP system and ERP can be a SAP ECC systems or any ERP software the organization utilizes. SAP CRM System acts as a logical box and connects to number of systems.
SAP CRM server connects to a SAP BI/BW for reporting purpose.
CRM severs connected to SCM/SAP APO for the purpose of planning. For example when sales orders are created, it is required to intimate the delivery date of products/services . CRM interact with SAP APO and APO confirm when the sales orders is going to be deliver.
CRM Server can be connected to SAP Net-ware portal like SAP ERP Systems, SAP CRM, SAP BI, SAP APO, SAP Solution Manager.
It also connected to Handhelds (mobile devices), web channels (Websites), Interaction Center.
SAP CRM Architecture Diagram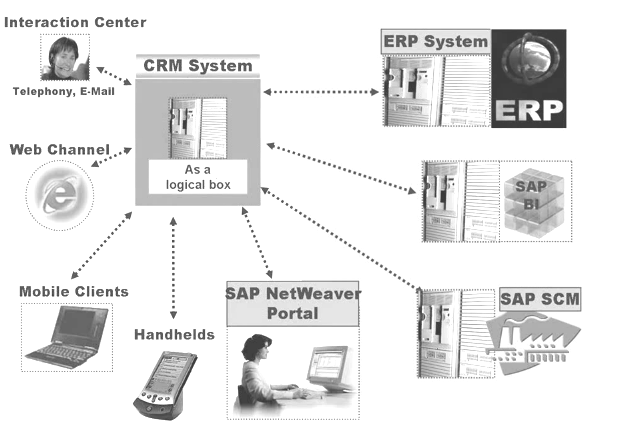 How SAP CRM is connected to SAP Systems
SAP CRM is connected to SAP systems by R/3 adapters in the middle ware
How SAP CRM is connected to Web channel Architecture.
SAP Customer Relationship Management is connected to web servers through internet  pricing & Configurator (IPC), Index sever & Search engine, web channel applications and SAP web application server Java.
How CRM is connected to Interaction center
Customer center contains number of functional such as e-mail service, phone calls, supporting etc. All this services are connected to CRM system through Communication Management System(CMS) software tool.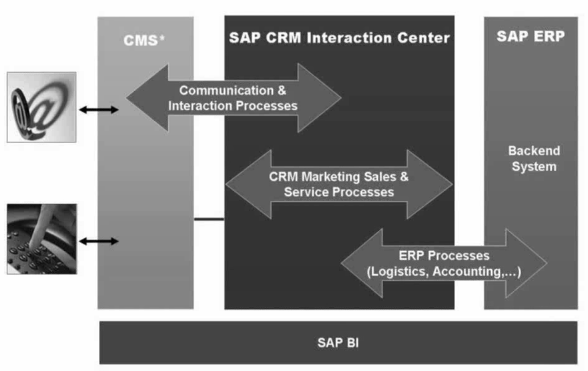 How CRM server is connected Mobile/Laptop
SAP CRM Servers is also connected to the mobile and laptops by the communication stations, with the transformation between .Net and RFC).