What is SAP SCM
SAP SCM stands for Supply Chain Management and it is one of the important module in SAP. Supply chain management (SCM) covers the areas of production planning (PP), business forecasting and demand planning. It controls product flow and information flow across the organizations.
Supply chain Management is integrated with other business process such as product discovery, development process, material purchase process and production planning process. Supply chain enables the maximum customer satisfaction with less costs to the organizations.

Supply chain enables to plan for and streamline the organization network of logistics and resources that come together to form a supply chain. SAP Supply Chain Management is a advanced planning engine and is able to meet the complex supply chain challenges in Demand Planning, Supply Chain Planning, Production Planning and detailed Scheduling, Distribution Planning and Transport planning.
 Advantages of SAP SCM (Supply Chain Management)
SCM enables the forecasting the business, handle the large no of constraints and capability of cost based planning.
Analysis and planning of Supply & demand.
Analysis, Planning and management of order based capacity.
SAP SCM is divided in to three type of flows, Such as
Product Flow
Information Flow
Finance Flow
Product Flow: – It includes the delivery of good and services from suppliers to a customers and returning any goods or services from customers.
Information of Flow: – It includes the delivering of information that related to the orders and updating the delivery status.
Finance flow: – It contains the financial accounting data that related to finances such as credit, debits, payments, etc.
Supply Chain Management Software Types
Planning Application helps to process the orders by using advanced algorithms.
Execution Application helps to track the status of the materials, services and financial data.
 SAP SCM Applications
Advanced Planner and Optimizer (APO): – It is a planning tool of forecasting & demanding and supports the supply chain that related to planning, decision, execution and optimization.  It integrates with other modules such as Customer Relationship Management(CRM), Product Lifecycle Management (PLM) and Supplier Relationship management (SRM). The important components of SAP APO are as follows-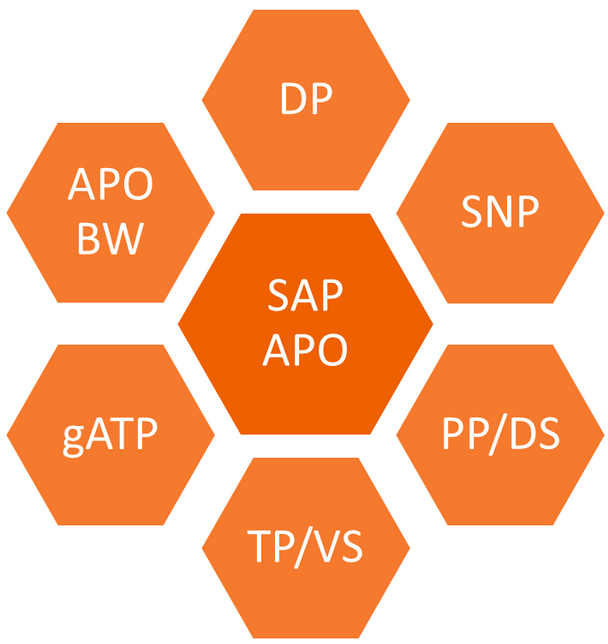 Demand Planning (DP)
Supply Network Planning (SNP)
Production Planning/Detailed Scheduling (PP/DS)
Global Available to promise check (GATP)
APO With BW Product
Transportation Planning/vehicle scheduling (TP/CS)
Transport Load Builder.