Why a Career in SAP?  SAP Careers guide and Advice
Why Career in SAP? Which is best SAP module to choose for career, Why  SAP? and many questions comes in mind of SAP beginners. Here we have provided solutions for the frequently asked questions on SAP careers advice, best sap module to choose for fresher & experienced, SAP job opportunities, salaries, how to get job in SAP etc.
From the last 40 years there is a huge technologies change from time to time. From mid-seventies, the usage of Mainframe computers started, in eighties the client server computing and than online internet revolution, etc. With the change of technology, every small and medium organizations are updating to new technologies. In 1970's five former IBM employees invented new enterprise software application called as Systems Applications and Products in Date processing (SAP). In fact ERP softwares of oracle and SAP  has survived in business market. From time to time SAP has been going strong in world business market and SAP application has become as primary business application.
Why Career in SAP?
It is a good reason to have a career in SAP, because SAP was popularly known as the installed base. Large number of small, medium, large sized organization are moving to SAP application software and making as primary application. According to world ERP market share report 2013, SAP has 24% of market share in world wide.
Every year large number of companies are moving over to SAP software, so it will be a great Job opportunity to have a career in SAP and involved in implementing SAP. Also there are various job opportunities at all the companies that ERP SAP software already installed. The people who are working on SAP gets highly compensation when compared other softwares.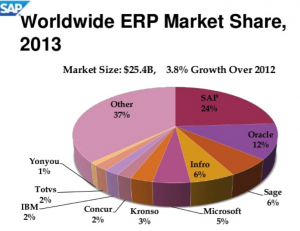 Career in SAP as fresher
When you are starting up career in SAP as a fresher, it is important to choose best SAP modules based on your interests. Modules are categorize in to two types.
Functional Modules

Technical Modules
The different types of SAP Functional modules are as follows.
List of SAP Technical Modules
So based on your educational background, experience skills, go for the best SAP module to get job. Finally, Career in SAP as a fresher or experienced, its a good choice.
Continue to read our free SAP training tutorials.